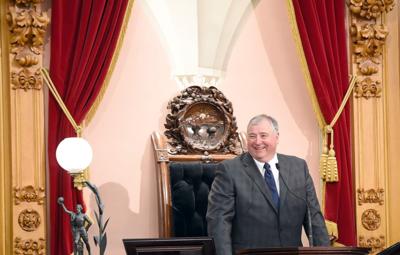 (The Center Square) – The state House passed a bill to ban public officials from closing houses of worship or changing an election date.
Lawmakers passed House Bill 272 by a 59-35 margin along party lines. The bill, which incorporates language from another bill the House passed in June (House Bill 680), also expands the "personal jurisdiction" of a court to include any basis consistent with the Ohio and U.S. constitutions.
"It is a step to protect our constitutional rights," state Rep. Jason Stephens, R-Kitts Hill, said on Facebook. "I hope that the Governor will sign this bill into law."
Elections have been a hot topic in Ohio since the state's much-maligned primary, originally scheduled for March 17.
The day before, state officials, citing the COVID-19 pandemic, ordered polls to close and canceled the primary. The state ultimately allowed mail-in ballots through April 28.
The bill now heads to the governor for his signature. However, a spokesperson for Gov. Mike DeWine declined to tell Cleveland.com whether the governor would sign the legislation.
"We are not closing churches, and we have never closed churches. We are not moving the upcoming election," Cleveland.com quoted spokesman Dan Tierney as saying.
Meanwhile, former House Speaker Larry Householder, R-Glenford, returned to the House floor on Tuesday. A federal grand jury previously indicted Householder and four others as part of a $60 million "public corruption racketeering conspiracy" to pass House Bill 6, a ratepayer-funded bailout of two Ohio nuclear power plants.
Current House Speaker Bob Cupp, R-Lima, announced a new committee tasked with repealing and replacing HB6. Democrats derided the move, but Householder defended the legislation.
"As far as House Bill 6 is concerned, it's good legislation," Cincinnati.com quoted Householder as saying. "I'd hate to see us repeal it. Now there may be some ways to make it better. And if there are, I think [lawmakers] will have an opportunity to look at that."
While Householder has not resigned, Republicans added language to Senate Bill 318, a bill to extend the Women's Suffrage Centennial Commission, to remove Householder from the Joint Legislative Ethics Committee (JLEC) and the Capitol Square Review and Advisory Board (CSRAB).
"The fact remains that Larry Householder still holds his seat in the Ohio House because Republicans voted to keep him there," state Rep. Tavia Galonski, D-Akron, said in a statement.
"Now they are attempting to remove him from less influential positions to simply appear that they are now trying to do the right thing," Glaonski continued. "Instead, what they are actually doing is disrespecting the generations of women who fought for the simple right to vote by tainting a bill meant to commemorate the centennial anniversary of women's suffrage."
VIEW FROM THE PUGH EDITOR'S NOTE: Check out View From The Pugh sponsors at Chase Bank, The Manly Man Company and Caribbean Apparel clothing.
ALSO SEE
Subscribe to View From The Pugh here
Save your photos and files on Dropbox
Catch up on the World of Pugh podcast
Sign up to win daily contests here
Get daily updates about the Pittsburgh Steelers
Like View From The Pugh on Facebook