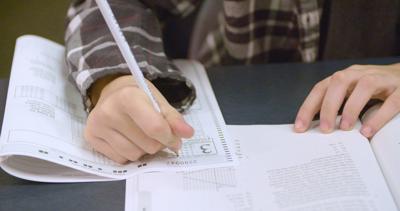 (The Center Square) – State senators are considering a bill that proponents say extends flexibility and support to Ohio's schools as they return to the classroom — whether in-person or online — amid the COVID-19 pandemic.
Senate Bill 358, pending before the Senate Education Committee, extends some provisions in bills lawmakers previously passed, House Bill 164 and House Bill 197.
According to a Legislative Service Commission analysis, the bill would, in part, extend exemptions for public and chartered private schools from administering state achievement tests for the 2020-21 school year. It also continues a prohibition the Department of Education cannot cut funding for schools or districts based on students who were not given assessments.
"As schools begin to reopen this fall, districts will need the same flexibility and support from the legislature that they were granted during the 2019-2020 school year," state Sen. Nathan Manning, R-North Ridgeville, said in a statement.
The legislation would allow public and private schools to give diplomas to students who were on track to graduate if school officials determine they successfully completed their education. It also continues to bar the Department of Education from issuing data for school districts' report cards and gives a "safe harbor" to school districts for any penalties or sanctions.
"We need to be proactive as we reopen schools in the Fall," state Sen. Teresa Fedor, D-Toledo, said in a statement. "Extending these provisions will allow schools to focus on what is most important, the safety and education of our children."
A school district or board of education may opt to skip evaluations for teachers, administrators and superintendents for the 2020-21 school year "if the board determines that it would be impossible or impracticable to do so," according to the LSC analysis.
A spokeswoman for the Ohio Department of Education told The Center Square the agency typically does not take formal positions on legislation. However, the Ohio Education Association (OEA) voiced its approval for the bill.
"As the school year begins our students and educators are facing many challenges," OEA Vice President Jeff Wensing said in a statement. "Whether classes are in-person, online or a combination of the two, it is unlike any year that came before.
"Due to COVID-19, school districts will continue to experience barriers to education service delivery and instability in student data," Wensing added. "It would be misleading and unfair to require report card grades or punitive measures based on report card data during this time."
VIEW FROM THE PUGH EDITOR'S NOTE: Check out View From The Pugh sponsors at Chase Bank, The Manly Man Company and Caribbean Apparel clothing.
ALSO SEE
Subscribe to View From The Pugh here
Save your photos and files on Dropbox
Catch up on the World of Pugh podcast
Sign up to win daily contests here
Get daily updates about the Pittsburgh Steelers
Like View From The Pugh on Facebook