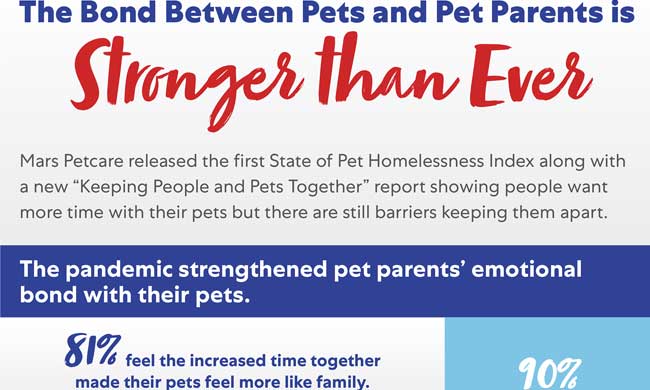 (Family Features) The bond between people and their pets has never been stronger. Eighty-one percent of pet parents said the increased time together during the pandemic made their four-legged friends feel even more like family, according to the Mars Petcare "Keeping People and Pets Together" Report, which examined the relationships pet parents developed with their pets in 2021 as well as their hopes and concerns for the year ahead. It also highlights findings from the first-ever State of Pet Homelessness Index, which measured the scale of pet homelessness to help find ways to solve the problem. Learn more at BetterCitiesforPets.com.



SOURCE:
Mars Petcare
—
Ways you can help support the show
Chase Bank – where you can get a $200 bonus by opening an account and doing a direct deposit. Open an account today at https://accounts.chase.com/consumer/raf/online/rafoffers?key=1934238931&src=N.
Ashley Furniture – Save money on your furniture with this coupon. https://www.ashleyfurniture.com/?extole_share_channel=SHARE_LINK&extole_shareable_code=viewfromthepugh5&extole_zone_name=friend_landing_experience
Donate to the show – Through CashApp at $ChrisPugh3.
Enter our featured contests – $1,000 Target giveaway (through Feb. 27), Win a $500 WalMart gift card (through Feb. 28), Win a $1,000 Best Buy gift card (through March 4) and Win a $1,000 Amazon gift card (through May 22)
Sign up for CashApp – Using the code ZFZWZGF. We will both get $5. https://cash.app/app/ZFZWZGF
Get your next project done for $5 through Fiverr – https://fiverraffiliates.com/affiliatev2/#:~:text=https%3A//fvrr.co/3K9Ugiq
Follow our podcast hosts on Twitter – Chris Pugh, Craig Shoup, Paul Yanchek, Joe Frost and also follow co-hosts George Thomas and Bob Garver.
Read Chris and Craig's professional work – Read Chris Pugh's work for the Columbus Dispatch and Cincinnati Enquirer and Craig's work at Clarksville Leaf-Chronicle
Share us with your friends